Drug-resistant infections: what we're doing now to tackle this slow-moving pandemic
To stop life-threatening infections from escalating, the world must control the spread of drug-resistant infections. Tim Jinks explains Wellcome's role in the global response to antimicrobial resistance.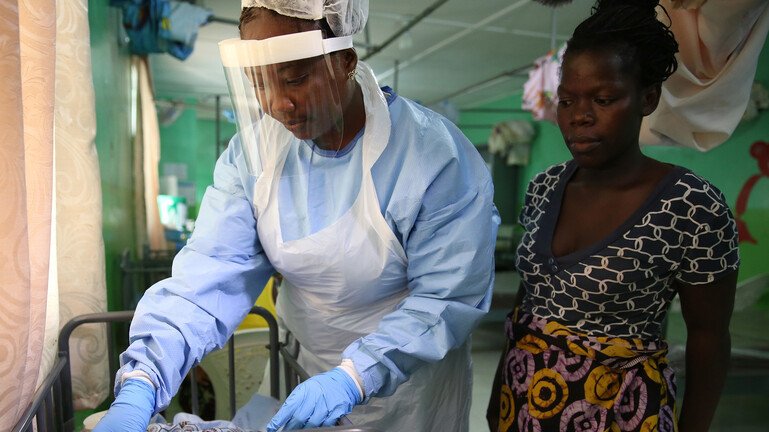 Last month, Wellcome announced our new vision and strategy: supporting science to solve the urgent health challenges facing everyone. We will be taking on three urgent health challenges – mental health, global heating and infectious disease – that threaten the health of humanity for decades to come.
Drug-resistant infections are increasing across the world because of the slow-moving pandemic of antimicrobial resistance (AMR) – an urgent health threat we have been and continue to work on. Although the development of our vision and strategy started before the Covid-19 pandemic, this is a critical moment in shaping the future of our world and how we – as Wellcome and a wider global health community – respond to infectious diseases.
Within this context, Wellcome has taken stock of progress to reduce drug-resistant infections by limiting the impact of antimicrobial resistance. And we've looked at what critical gaps remain and where we can best contribute to collective global action on the issue.
Our vision for infectious disease is a world in which escalating infectious diseases are under control in the communities most affected. Tackling drug-resistant infections is a major piece of this puzzle.
The pathogens that cause infections evolve and develop resistance to the treatments we use to control them. This leads to common infections becoming untreatable and medical procedures such as surgeries or chemotherapy becoming too risky.
For years, Wellcome has prioritised tackling this urgent health threat because we believe that, to stop life-threatening infections from escalating, the world must stay one step ahead by controlling the spread of drug-resistant infections.
While I am proud of the work that Wellcome and our partners have done, I am under no illusion that we have solved this challenge. We have a long way to go and we must consistently refine and revise our approach to keep moving faster than drug-resistant pathogens can evolve.
In 2019, we commissioned an analysis of actions toward the global AMR agenda to identify where progress has been made and what critical gaps remain. We sought input from leading experts within the public health, policy and scientific communities. Over the summer of 2020, we expanded this research to understand the impact that the Covid-19 pandemic was having on antimicrobial resistance.
The report, published today, outlines a critical path forward for the AMR community. 
The Global Response to AMR: Momentum, success, and critical gaps
Based on interviews with 150 experts from the public health, policy and scientific communities, this report gives an update on the status quo, recent developments and remaining critical gaps in the AMR response globally.
Since 2016, we have invested in initiatives like CARB-X to speed up the development of new or improved antibiotic treatments, vaccines and tests, founded SEDRIC to promote the use of data to tackle drug resistance, and fostered international involvement in policy processes.
Although exciting progress has been made on AMR, as the report shows, global and national political momentum has stalled. And the development and uptake of key interventions like new antibiotics, improved diagnostics and actionable data to prevent, treat and control drug-resistant infections have not progressed as fast as we need them to. This has informed the evolution of our approach.
Our revised approach will also place an emphasis on working for the communities most affected by drug-resistant infections. While worldwide mobilisation to tackle drug resistance remains crucial, it's more important than ever that we focus on making sure that countries have the resources and means they need to respond effectively at a national level.
We will work to ensure effective antibiotics and diagnostics are available in low-resource settings and the countries that stand to benefit the most from tackling AMR have the necessary data to implement country-specific, country-led and country-owned interventions.