Let's reach COVID-Zero. Business can help by funding R&D to overcome the impact of coronavirus
No individual, business or economy in the world has been left untouched by COVID-19.
It is a huge problem – but a solvable one. Together, by fully funding R&D for testing, treatment and vaccines, we can achieve COVID-Zero: no more preventable deaths, no more lockdowns and no more disruption.
Businesses can change the course of this pandemic
There is an urgent funding shortfall for the scientific research that will bring an end to the current crisis. According to the Global Preparedness Monitoring Board, we need to secure an additional $8 billion in the next few weeks. Otherwise, crucial opportunities to accelerate the solution to this crisis will be missed.
COVID-Zero is calling upon businesses to raise $1 billion of this funding shortfall and get all our lives, businesses and economies back on track.
Why businesses should donate to research and development
Globally, most funding is rightly going into coping with the pandemic today – tackling the immediate public health crisis and propping up struggling economies. Global businesses are already doing excellent work in supporting their communities and employees.
However, until we have working tests, treatments and vaccines, there will be future waves of this pandemic with repeated cycles of lockdowns and social distancing. 
Science is our only true long-term exit strategy from the pandemic.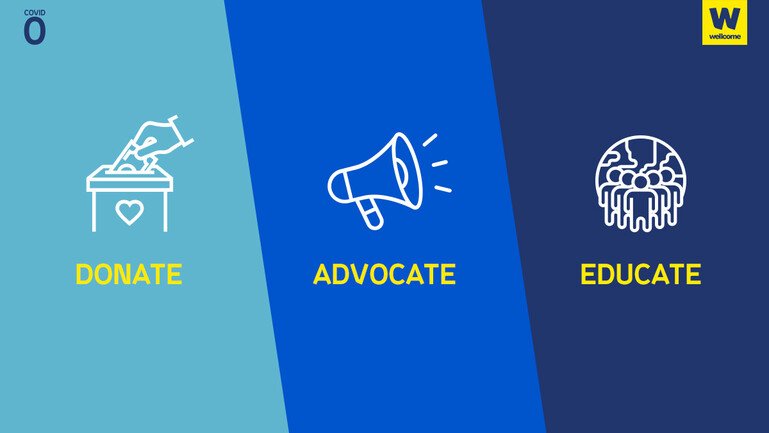 As a business leader, you can further demonstrate your commitment by donating a proportion of the money you are dedicating to coping with the crisis, to helping solve it. 
Funding this urgently needed science will be one of the best investments your business ever makes.
This money will save lives, secure jobs and get the world moving again sooner than any other investment you can make right now. 
Your business can support by doing any or all of these three things:
Donate: give funds representing at least 10% of what you are contributing to your crisis management efforts to this crisis resolution plan.
Advocate: make your voice heard to governments in the regions and markets where you operate – make sure they know you are doing your part, but you need them to do theirs.
Educate: educate and activate your networks – make sure your employees, suppliers and customers understand that you are part of a coalition pledging to achieve COVID-Zero as soon as possible, and why this matters.
Where the money is needed
The biggest funding gap is for researching, developing and scaling up potential vaccines, treatments and tests through CEPI and the COVID-19 Therapeutics Accelerator. Additional funding is also needed for bodies like the World Health Organization (WHO) who can help ensure these innovations reach the people who need them the most.
Private sector support for research and development to date

COVID Zero raised over $27 million from 17 donors, all of which has been donated directly to Covid-19 research. 
We would like to thank: Avast, Advent International, General Catalyst, Nigel Blackwell, The Duff & Phelps Charitable Foundation, Goldman Sachs Gives, Derwent London, A Collected Man, Danske Bank Foundation, TPG-Global, Deerfield Foundation and Atomico.
Outside of the COVID-Zero campaign, many other businesses and philanthropies have donated to support coronavirus research and development. Mastercard is a founding partner of the COVID-19 Therapeutics Accelerator. CEPI has received donations from the investment firm Citadel and gaming company Ndemic Creations. And the WHO Solidarity Response Fund has received donations from numerous private sector organisations including HSBC, Nike and Johnson & Johnson.