How have Covid-19 vaccines been made quickly and safely?
Unprecedented international cooperation and focus have led to multiple effective and safe Covid-19 vaccines in less than a year, and created a blueprint for future vaccine development. Here's how.
How have Covid-19 vaccines been made quickly and safely?
More people are working on vaccines than ever before. When making vaccines normally a lot of time is spent waiting for people to become infected to test the vaccine, waiting for independent agencies to check results, deciding whether to continue an expensive development process or for regulators to approve things.
Basically, waiting for things to happen one after the other, in sequence.
It's like crossing town during rush hour. You have to wait for the lights, the traffic, and the lorries stuck up a one-way street.
In developing Covid-19 vaccines, everyone is acting urgently. So it's like crossing the same town when all the traffic lights have been turned green and you've got a police escort. By cutting out all that waiting, you get there much faster but no less safely.
To make Covid-19 vaccine development faster, people signed up for trials before the vaccines were even ready. Global collaboration has led to simultaneous international testing. Regulators have been checking results on a rolling basis week by week. And money has been made available to start manufacturing before tests are finished, risking money but saving time.
All steps that can be have been carried out simultaneously.
The result has been the fastest vaccine development we've ever seen. All without cutting back on testing and safety.
Covid-19 has shown what we can achieve if we all work together, without cutting corners.
The Covid-19 pandemic threatens every one of us, wherever we are, which has demanded a new global approach to vaccine development. There has been unprecedented international attention, cooperation and use of resources, enabling us to act at speed to stop people dying and protect livelihoods.
For most diseases, developing a vaccine can take more than 10 years. The development process is expensive, so to keep costs down development takes place slowly, each stage only beginning when the previous stage is successfully completed.
This has meant a fundamental redesign of the staggered approach of conventional vaccine development, so that Covid-19 vaccine development can safely be done much faster.
So far, it has been an extraordinary success – a brilliant example of what we can achieve when we work together.
It's a bit like driving across a busy city in rush hour. Normally you spend lots of time waiting at traffic lights, but when you have a police escort, you can take the same journey and get to the same place, just as safely, but faster.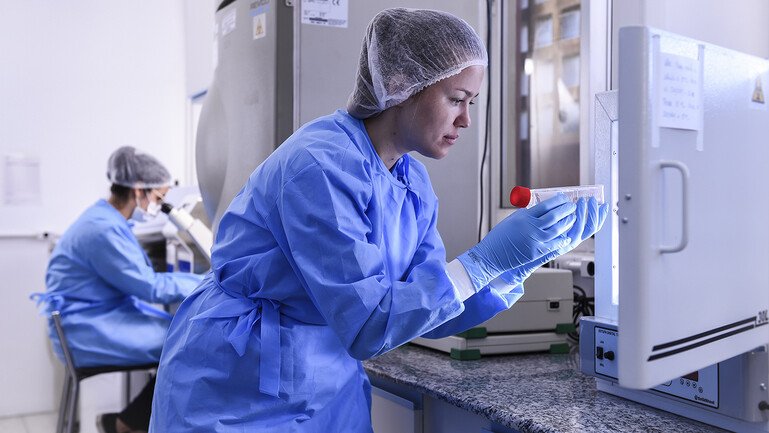 The usual vaccine development process
All licensed vaccines currently available have been made using a traditional vaccine development model. Because of the high costs and failure rate, this usually follows a linear sequence of steps.
There are five stages to the process:
Discovery research – normally takes between 2 and 5 years and involves lab-based research looking to find ways to induce an immune response at a molecular level.
The pre-clinical stage – takes up to 2 years and involves testing in animals to assess the safety and suitability of potential vaccines for humans.
Clinical development involves testing potential vaccines in humans and has three phases:

phase I: testing for safety – takes 2 years and requires 10-50 (usually healthy) people to take part in trials.
phase II: understanding the immune response, safety and dosage – takes 2 to 3 years and requires hundreds of people to take part in randomised trials, including a placebo control group and people with the target disease.
phase III: assessing if the vaccine safely protects against the disease – including prevention of infection and related immune responses – takes 5 to 10 years and requires thousands of people to take part in trials, including a placebo control group.

Regulatory approval – can take 2 years and involves submitting data and information on the vaccine's safety and efficacy to regulatory authorities for review, to gain approval. Pharmaceutical companies continue to monitor effectiveness and safety after the vaccine has been licensed. 
Manufacturing and delivery – require specialist facilities that are highly regulated and expensive to set up.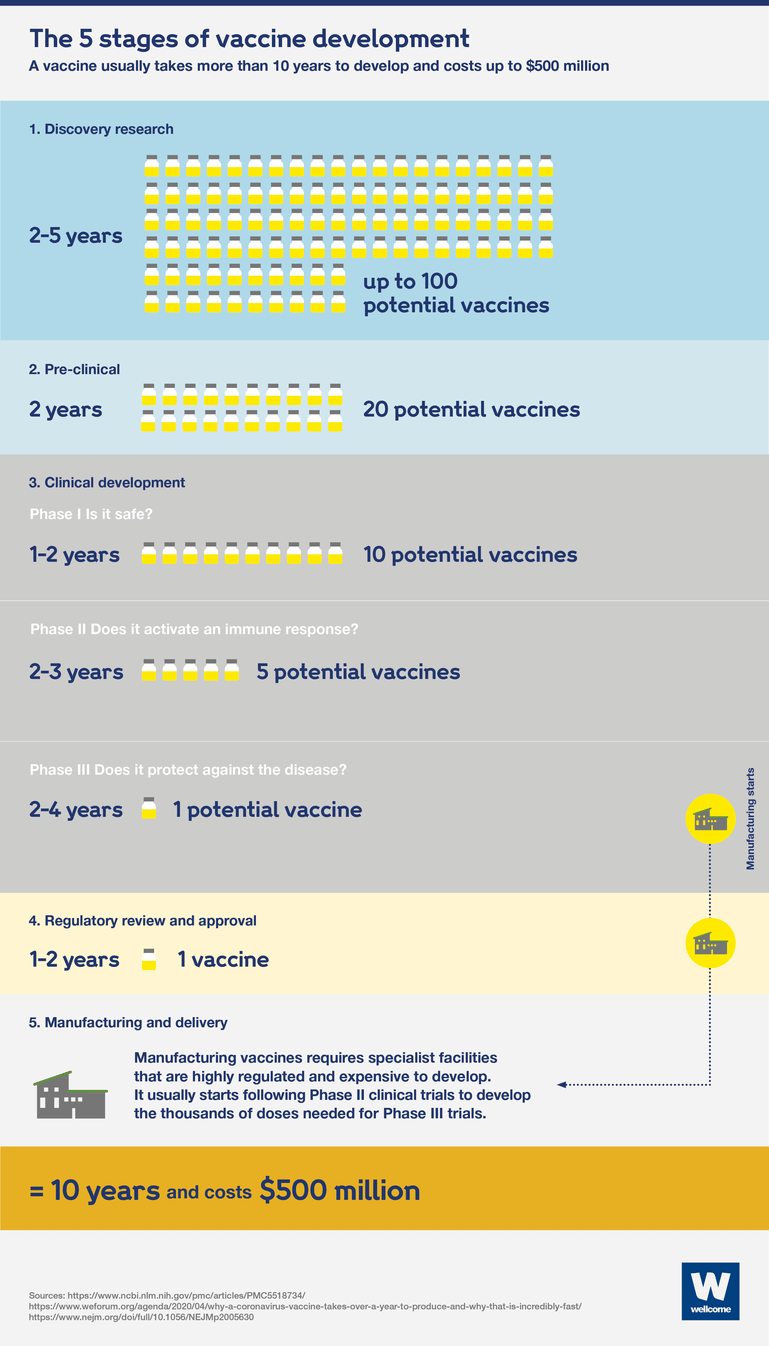 Using this approach, a vaccine would usually take more than 10 years to be developed and cost between $200 and $500 million.
Each of these stages happens in sequence, one after the other. At each stage, and between stages, there would be a lot of waiting.
With Covid-19, we couldn't afford to wait. Because of how deadly and disruptive Covid-19 is, we simply had to find ways to speed up the usual vaccine development approach.