Antibiotics are the basis of modern medicine. These projects aim to keep it that way.
Wherever we live, we can no longer be certain that in future antibiotics will continue to cure infections caused by bacteria. The increasing resistance of bacteria to the medicines we have is undermining healthcare around the world. But we are not powerless against antibiotic resistance.

Pioneering projects in different countries are using innovative grassroots approaches to change people's attitudes and behaviour so that the antibiotics we have remain effective for as long as possible.
These initiatives meet local needs and circumstances, but they could be copied, adapted and replicated for use in other countries.
You are free to use any of the information on this page to increase the impact of your own work around drug-resistant infections.
Tanzania: changing the way shop owners dispense antibiotics
The problem
People in Tanzania can buy antibiotics from unregulated local shops, fuelling a rise in antibiotic-resistant bacteria.
The approach
Since 2003, the Accredited Drug Dispensing Outlets (ADDOs) programme has trained shop owners about the dangers of customers misusing antibiotics. 
Using dispensing guides, posters, information cards and medicine label stamps, the shop owners educate their customers about how to take antibiotics properly and about any side-effects to expect.
The story so far
Trained drug dispensers are working in more than 12,000 shops around Tanzania.
Inappropriate dispensing has fallen sharply and the availability of antibiotics for people who need them has risen.
The scheme, which has been running since 2003, has been copied in other countries, including Nigeria, Uganda, Zambia and Bangladesh.
The project's backers
The government of Tanzania; the Pharmacy Council; international NGO Management Sciences for Health.
Why diseases are becoming harder to treat with antibiotics
The way each country produces, prescribes and dispenses antibiotics is different. But misuse and overuse of antibiotics in medicine and agriculture is common to many societies and is fuelling antibiotic resistance. Cumulatively, this threatens global health, food security, economies and the environment.
Even if new medicines are produced in future at a price that health systems and individuals can afford – and this is still a big if – unless we fundamentally alter the way we use antibiotics to treat infections in ourselves and in animals, then antibiotic-resistant bacteria will remain a major health threat.
Countries where people are most at risk from drug-resistant infections are the ones where grassroots projects are changing the way communities think about and use antibiotics. 
India: partnering with young children to develop grassroots comics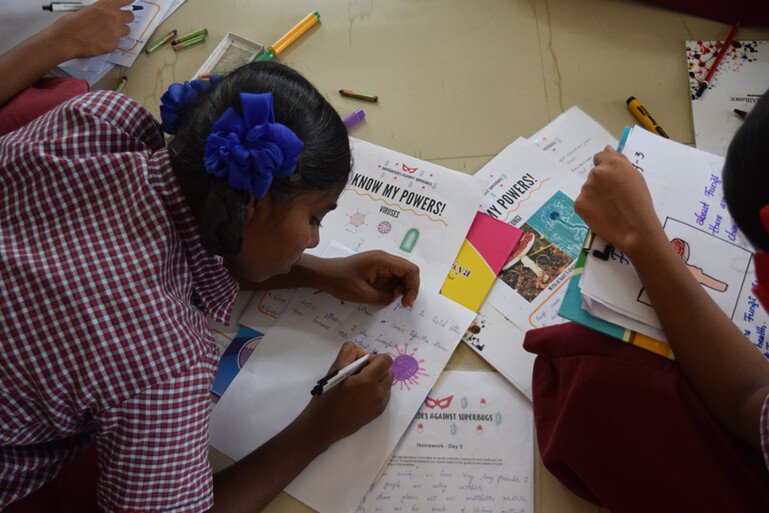 The problem
India is the largest consumer of antibiotics but an estimated 64% of the antibiotics used aren't approved medicines.
India is also a major manufacturer of antibiotics, which creates polluting byproducts that exacerbate the growth of resistant bacteria.
The approach
Launched in 2018, Superheroes Against Superbugs (SaS) aims to raise awareness about antibiotic resistance, and promote community dialogue and action by engaging young children in India.
Fun, hands-on activities provide schoolchildren with the scientific knowledge and tools to influence their family's and friends' behaviour.
Group activities with scientists and doctors teach the children taking part about microbes and antibiotic resistance, and how this could affect them and their families.The children then use their creativity to make pen and paper comics on superbugs that can be reproduced and exhibited.
The story so far
Sixty children from two schools have taken part in two-day workshops and produced comic stories that show a proper understanding of the complexities of antibiotic resistance.
The SaS team have also organised awareness activities at school festivals and public events in Hyderabad and Delhi.
SaS has developed a website to share its educational and engagement resources with the wider community.
The project's backers
World Comics India; Center for Cellular and Molecular Biology, Hyderabad; The George Institute for Global Health; Wellcome Trust/DBT India Alliance.
Why protecting antibiotics is vital
Antibiotics are a mainstay of modern medicine. They're used to:
treat common illnesses caused by bacteria, such as urinary, digestive, chest or skin infections
heal infected wounds, for example after childbirth or operations
protect people whose immune system is weakened, for example because of cancer treatment.
This means that if antibiotics stop working, medicine as we know it will change massively and for the worse. This is already beginning to happen around the world.
South Africa: empowering hospital pharmacists to advise on antibiotics
The problem
A lack of data, infectious diseases expertise and resources, plus hospital networks spread over large areas, are a barrier to implementing antibiotic stewardship programmes in South Africa's public and private hospitals.
The approach
Hospital pharmacists in the emergency wards of a private hospital in Johannesburg were allocated time to trial interventions to reduce inappropriate use of antibiotics. For example, testing to see if infections would respond to antibiotics, and changing how many antibiotics were given at once and for how long. 
The story so far
Pharmacists' professional credibility and knowledge has increased, and they are now engaging more with doctors and patients to advise about antibiotic use.
Antibiotic consumption, and drug-resistant infections and their associated costs, have fallen.
The initiative has been expanded across hospitals in the private Netcare group, and into South Africa's public hospitals.
The project's backers
Netcare Antimicrobial Stewardship Study Alliance; Ampath Laboratories.
Innovation is key to tackling antimicrobial resistance and there are fantastic examples of this happening in communities all around the world. We must find a way to unite, to learn from one another and to scale up these ideas to address the global threat.

Professor Dame Sally Davies, UK Special Envoy on Antimicrobial Resistance
Bangladesh: running community dialogues about antibiotic resistance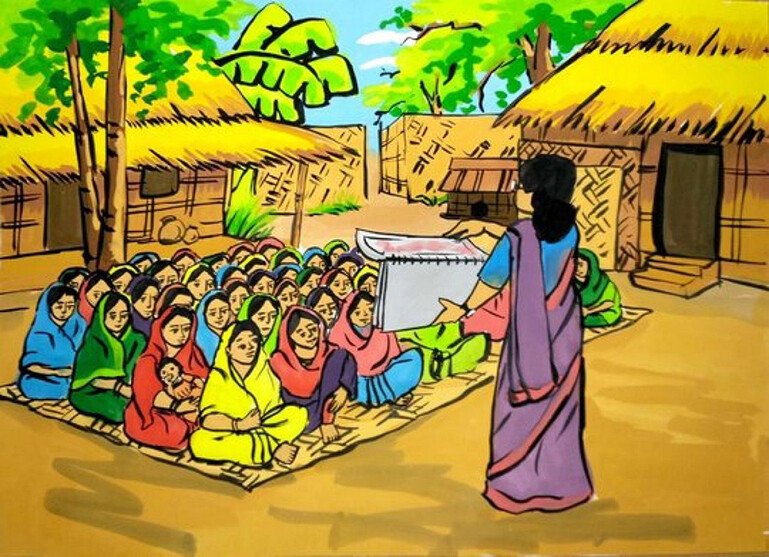 The problem
Many people in Bangladesh self-medicate and use over-the-counter antibiotics inappropriately. There is a weak surveillance system, plus unchecked use of antibiotics in farming.
The approach
The Community Dialogue Approach trains community-based volunteers to run regular meetings to work out ways to stop the spread of antibiotic resistance.
Villages in the catchment areas of five community clinics chose volunteers who learned about the correct use of antibiotics, plus communication and facilitation skills. The volunteers, supported by supervisors, were equipped with a flipchart that illustrates key messages and stimulates discussion.
Community dialogues give people the chance to explore health issues affecting the community collectively, identify locally relevant solutions and reach decisions about what the community could do to improve the issue.
The story so far
From April to October 2018, 55 volunteers held close to 450 community dialogues in Comilla District, Bangladesh.
Decisions documented by communities included not buying antibiotics without a prescription, visiting the community clinic if unwell, and encouraging handwashing among community members.
The project's backers
Nuffield Centre for International Health and Development, University of Leeds, UK; ARK Foundation; Malaria Consortium.
Let's pool our knowledge
What the initiatives on this page have in common is that they are using innovative approaches to make sure antibiotics remain effective for as long as possible.
Changing people's attitude to antibiotics and their use is one strand in tackling drug-resistant infections. Others include improving hygiene, preventing the spread of infections, developing new ways to diagnose whether antibiotics are needed, and making antibiotic research and development sustainable.
Wellcome is always interested in hearing about innovative approaches to tackling a challenge like drug resistance. If you are working in a pioneering way, please let us know. Email drugresistantinfections@wellcome.org.
Twitter: AMR at Wellcome