Snakebites: making treatments safe, effective and accessible
Treatments for snakebites already exist and yet the human toll from snakebites is one of the world's biggest hidden health crises. They kill more than 120,000 people each year and leave another 400,000 with life-changing disabilities, mostly in the poorest communities. To prevent this, we want to help make safe, effective and accessible snakebite treatments a reality.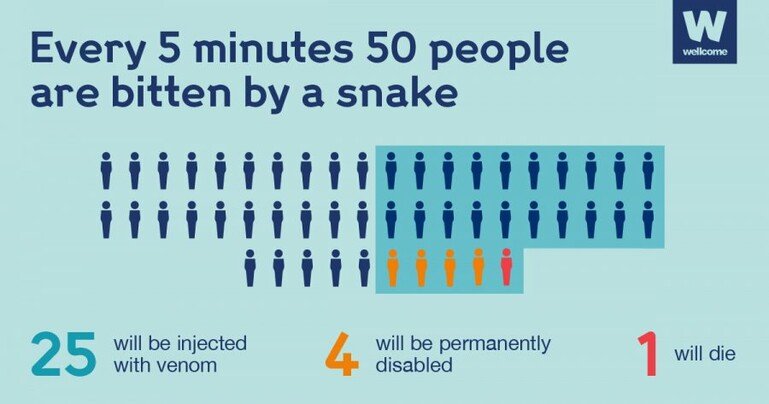 Every 5 minutes – roughly the time it will take you to read this page – approximately 50 people are bitten by a snake, of whom 25 people will be envenomed (injected with venom), 4 will be permanently disabled and 1 will die.
Snakebites are inevitable, but the resulting deaths and morbidity are not. With prompt access to well-made and well-selected antivenom, even those bitten by the deadliest snakes, from cobras to vipers, should have a good chance of recovery.
Three key problems are preventing this from happening:
a global antivenom crisis – the world produces less than half of the antivenom it needs, and this only covers 57% of the world's species of venomous snake
a lack of research – with limited investment into snakebite, the emerging technologies that might deliver new treatments have not been properly investigated
a weak regulatory framework – the current lack of regulatory controls is often allowing inappropriate products to be used.
Antivenom is currently the only medicine for treating snakebite and it is made by injecting horses with venom – a 19th-century technology. There are no common production, safety or efficacy standards, which means there is a high risk of antivenom being contaminated and causing adverse reactions.
At present, victims of snakebite must be treated in hospital, where emergency care is provided, often far from the rural settings where they have been bitten. This delay means that treatment is often given too late to save lives and limbs.
An unstable market for snakebite treatments has driven their costs up. This leads to the withdrawal of treatments from the market because poorer communities cannot sustain the price.
Until now, venomous snakebites have never been regarded as a public health priority or as an issue of urgent concern. As a result, government and intergovernmental agencies have been slow to prioritise prevention of snakebites and integration of treatments into health systems.
We want to help transform the way in which snakebite treatments are researched and delivered. If successful, this will also serve as a model for other neglected tropical diseases (NTDs). Our ambitions are to:
Bring production of snakebite treatments into the 21st century
We want to modernise antivenom production by enhancing the science and applying technology to make products better, safer and cheaper. We believe this can happen by working with the World Health Organization (WHO), antivenom producers, and other funders and delivery partners to build a regulatory system that gets more effective products to patients more rapidly.
Develop the next generation of treatments
We will kick-start development of new snakebite treatments and antivenoms by generating an evidence base for which treatments work and why. Through a clinical trials network, we want to bring together fresh expertise from different disciplines and overcome regulatory bottlenecks that hinder investment.
Build and sustain snakebite as a global health priority
We will generate evidence about snakebite's prevalence and economic cost. This information will help to underpin the development of a more robust market and integrate treatments into health systems where snakebites have most impact, particularly in low- and middle-income countries.
The areas we're focusing on
Snakebite research funding 2007-2018
We've comissioned the first comprehensive look at funding for snakebite envenoming research globally between 2007-2018. 
We hope this research helps those working in the snakebite field to see the gaps and possibilities for new solutions and collaborations.
Although the problem of snakebite is considerable, it is not intractable. Antivenom can be made safe, effective and accessible, and we know how to stimulate the development of novel therapies that will eventually make treatments significantly better.
There is an opportunity to address this health crisis and we want to change the way science, policy and regulation combine to address neglected diseases in the poorest countries.
Scientific expertise
​We are one of the major research funders and are working in partnership with leaders across different sectors to develop new and accessible treatments and antivenoms.
Policy environment
We want to support governments and regulators to develop procurement and clinical guidelines that are based on evidence and driven by local needs. This means collecting reliable data and strengthening surveillance systems to inform better decision-making
Influence and cross-disciplinary advocacy
Snakebite is now recognised as an NTD and the WHO has made it a priority. We also worked closely with the WHO to develop and implement the new WHO roadmap for snakebite envenoming. We want to build on this momentum and urgency and bolster global coordination.
Leadership
We will build and sustain partnerships with the public and private sectors we need to make a difference.
Snakebite facts and figures
6.8 billion people live within range of venomous snakes, and of these people 750 million live far from health services
Snakebites kill between 81,000 and 138,000 people every year, mainly in low-income rural communities in Africa, Asia and South America
400,000 people are left with a permanent disability, with 6-8 million Disability Adjusted Life Years (DALYs) lost - a toll comparable to prostate cancer, cervical cancer, rheumatoid arthritis, measles and viral hepatitis
The world produces less than half of the antivenom it needs
Venom varies widely between snake species but many clinics are not equipped to respond with the correct antivenom
Snakebite Grants: Discovering and Developing New Treatments
We've awarded more than £15 million in funding to support researchers working on innovative approaches to discover and develop next generation treatments for snakebite.
Read about the grants we've funded through this scheme.
Other snakebite research we've funded
Dr Guillermo León, University of Costa Rica, Costa Rica
Animal-derived antivenoms are the mainstay in the therapy of snakebite envenoming. There is an urgent need to develop knowledge-based protocols for the immunisation of horses, as this key aspect of production has lacked research and innovation.
This project aims to develop protocols for the management of horses used for immunisation with venoms in a pilot farm. 
The following aspects will be investigated: 
evaluation of feeding protocols
veterinary care and management aimed at minimising the deleterious effects of venoms
selection of the most appropriate adjuvants for immunisation and development of new immunisation schemes for generating high antibody titers
design of bleeding protocols providing a high yield of plasma while not affecting the overall condition of horses.
The project is also aimed at selecting the best combination of venoms from African snakes to generate a polyspecific antivenom of wide neutralising coverage, as well as to devise ways to improve the antibody titers against poorly immunogenic low molecular mass neurotoxins from snake venoms.
Tamar Ghosh, Royal Society of Tropical Medicine and Health, UK
This grant provides funding for the RSTMH small grants programme, to enable those early in their careers to conduct small research projects on snakebite. These awards are for up to £5,000 for those working in a field relevant to tropical medicine or global health, such as doctors, nurses, academic researchers, NGO workers, health economists and social scientists.
These grants typically represent the first time someone has received funding in their own name, the first application form they've written, and the first time they've managed their own project, including a budget and reporting.
Snakebite is a topic of great importance to RSTMH, given its high levels of death and disability. Although funding for this topic has increased, there is a need to encourage early career interest and these small grants are a way to do this.
Dr Matthew Lewin, Ophirex, USA
Wellcome has awarded funds to cover a portion of the costs associated with developing United States Food and Drug Administration approved and World Health Organization pre-certified oral and IV broad-spectrum antidotes to snakebite.
The programme will advance affordable, time-of-bite, heat-stable, easy-to-use, broad-spectrum treatments for snakebite, based on Ophirex's privately developed toxin-targeting portfolio.
This new treatment strategy will provide superior care, rescue life and limb, and be easily administered in any environment. Not only will this antidote be easily used in unsupported environments in an oral form, it will also be effective in an IV formulation when needed, such as in paediatric care, rapid infusion for rescue/emergency treatment, and traditional intensive care.
Key attributes of this first-in-class antidote are:
broad spectrum efficacy for first-line treatment of snakebite
excellent safety profile
ease of use, easily administered anywhere
shelf-stability in Zone IV conditions with at least one-year shelf life.
Professor David Lalloo, Liverpool School of Tropical Medicine, UK
There is a desperate lack of quality assured antivenoms for use in Africa. Many antivenoms in current use have only undergone limited pre-clinical testing and have never had formal clinical evaluation. To address this problem, a substantial clinical evaluation programme of antivenoms will be needed. 
Clinical trials of antivenom are challenging. A number of factors including multiple species, multiple different antivenoms, heterogeneity of clinical manifestations, need for studies in different geographical locations and lack of clear endpoints have all contributed to a lack of trials. 
This proposal will undertake the preliminary work necessary to establish a major antivenom clinical trial network. Following a review of existing studies and methodologies to inform the discussion, a workshop will bring methodology and snakebite experts together.
Expected workshop outputs include: 
preliminary identification of suitable sites 
priorities for antivenom testing 
agreed endpoints for clinical trials of a variety of species 
agreed methodologies, including potential adaptive designs for rapid assessment of new antivenoms.
Professor Iekhsan Othman, Monash University, Malaysia
Snakebite is a public health problem with substantial morbidity and mortality that affects an estimated 5.4 million people each year. The Association of South East Asia Nations (ASEAN) is recognised as having one of the highest regional burdens of snakebite. However, the true magnitude, especially on economic aspects, remains unknown. The result is a lack of access to effective antivenom due to inadequate understanding of demand and supply in the antivenom market.
This study will collect the clinical and antivenom market data, to provide a more accurate assessment of the burden of snakebite, and project the clinical and economic implications of scenarios with various levels of antivenom availability in seven ASEAN countries. This is a critical first step in the development of national and regional action plans to address the burden of snakebite.
Professor David Lalloo, Liverpool School of Tropical Medicine, UK
This proposal will undertake work that is essential to prepare for a potential clinical trial of snakebite treatment in eSwatini. It will evaluate the burden and clinical pattern of disease, assess feasibility from a logistic and governance perspective and undertake pre-clinical efficacy studies of selected antivenoms to inform the choice of antivenoms to study.
Key goals are to:
determine the number and location of eSwatini snakebite victims that could be enrolled onto a trial
assess the clinical, logistic and governance capacity for potential clinical trials
identify the most appropriate antivenoms for a clinical trial, based on preclinical efficacy
assess the natural history of venom-induced necrosis and identify the most appropriate potential outcome measures in a prospective clinical observation study of patients envenomed by spitting cobras.
A crisis in the production of antivenom is killing tens of thousands of people a year. Could new technology create a universal defence against snakebites? This report outlines how our work aims to 'transform the way snakebite is managed globally'. 
Health editor Sarah Boseley reports on our aim to develop new drugs that are affordable for health systems in developing countries.
"It is time for the world to take snakebites seriously. We need a response that goes far beyond the altruistic acts of individual doctors and campaigners." Mike Turner, our Director of Science, shares the vision of the snakebites programme in this opinion piece.
What are some of the precautions that people can take to prevent being bitten? Dr Bernadette Abela-Ridder, from the WHO, talks about global initiatives tackling snakebites worldwide.  
What happens to patients when they are bitten by a snake and are far from a hospital? This report from CNN outlines current antiquated treatments and the reality of being bitten by a snake.
The team is supported by a scientific advisory board and governed by an internal programme board. If you have any questions about our work, contact snakebites@wellcome.org.