We created a library to help address inequities in funding
Our funding practices do not always lead to the equitable outcomes we hope for. Gearoid Maguire in our Culture, Equity, Diversity and Inclusion team introduces an innovative solution developed to help address this.
The data and underrepresentation in our funding outcomes
We want people funded by Wellcome to be more representative of the global population, able to be themselves and supported to be their best. However, our recent funding data from March 2021 highlighted that:  
applicant success rates differ by ethnicity, with UK-based white applicants 4% more likely to succeed than UK-based Black, Asian and minority ethnic applicants
women and Black, Asian and minority ethnic applicants are more likely to apply for lower-value or early-career schemes 
only 3% of UK-based applicants to our grants identified themselves as disabled in 2019/20 
over the past four years, the success rate for disabled applicants has been 3% lower than for non-disabled applicants.
Data on this underrepresentation is well-evidenced throughout science, technology, engineering and mathematics (STEM) and confirms systemic bias at a structural level that must be addressed. This is especially shown in academic awarding gaps, research funding success rates and representation at different career levels across the UK. 
The impact of underrepresentation in science and health in the UK
If the UK is to remain a global leader in STEM research, then it needs to understand that unequal representation in science means many scientific questions are not being asked or answered. Ultimately, this perpetuates existing health inequities and can stifle innovation.
Moreover, the UK Government has committed to increase its funding for research and development over the next decade. Underrepresentation in STEM research will not provide the future workforce necessary for the UK to deliver its research and development investment goals.
How to mitigate against underrepresentation in funding
We set out to put grantmakers at Wellcome one step ahead on their journey toward achieving more equitable funding outcomes by identifying existing practices that they could build on, adapt and refer to when designing their own context-specific interventions. 
To do this, we partnered with Science Practice to create the Equitable Funding Practice Library project. We explored the practices of many different funders working with many different sectors, populations, communities, geographies and scales of implementation. We also looked beyond funding into other domains to see what was being done to improve equity, diversity and inclusion outcomes within recruitment, university admissions and prize mechanisms. 
We found more than 100 distinct methods, models, approaches and ways of working that funders have used to address funding inequities. Ultimately, we built a collection featuring 50 of these practices in greater detail.
Sharing these findings with the wider funding community
We are proud and excited by this work and know many in the wider funding community are looking to see meaningful change with respect to equity, diversity and inclusion in their funding processes and outcomes.  
Moreover, we believe much of the work to achieve these goals has not happened yet. It is a space that requires experimentation, trial and error of new models and interventions and the practice of sharing these learnings across the wider community.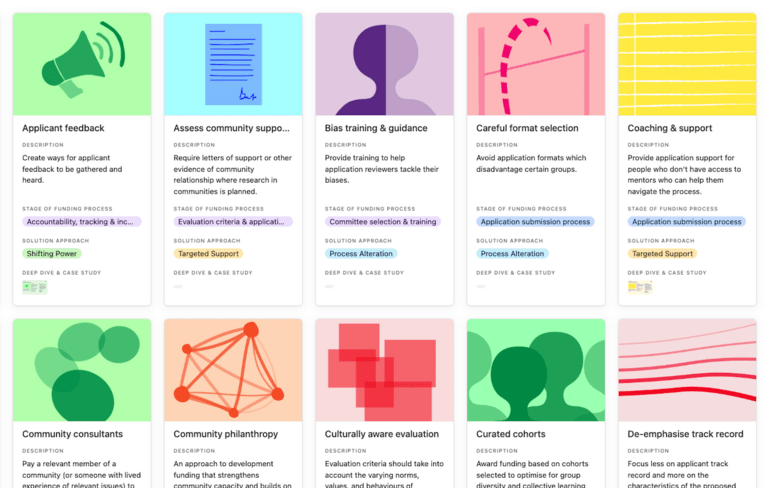 With this practice library, we hope we can add to existing conversations around equitable funding and offer insights to those who are on this journey too. 
We recognise that many of us will be at different starting points and have different contexts in relation to how we fund, but we believe that a community of equitable funding practice can benefit us all. We look forward to continuing the conversation on understanding our practices, our challenges, what worked has worked well and what has not worked so well.
What's in the practice library?
The Equitable Funding Practice Library brings together repeatable ideas that can be mixed and matched or applied individually to solve common challenges in reducing and eliminating inequitable funding outcomes. 
Whether you're a funder, grantee, applicant, advocate, or anyone else working to make funding outcomes more equitable, we hope you'll find this collection of practices a useful reference and source of inspiration. 
For each featured practice, the library provides a short description of what the practice does. Users can click through for further details including why the practice is needed and examples of the practice in implementation. For a subset of ten practices, we've also attached a more detailed profile and case study, highlighting implementation tips and insights as well as evidence of success where available. 
How to use this resource
Browse the practice library for inspiration
Get ideas for how to address equity, diversity and inclusion challenges that persist in funding systems, programmes and processes. 
Identify practices at relevant stages of the funding process 
Determine where in the funding process your own equity, diversity and inclusion challenges arise, then view the practice library by stage of the funding process to identify which practices could be relevant to you. 
Discover practices by solution approach 
Explore practices most relevant to the scale of change you are aiming to achieve (filtered by targeted support, shifting power, process alteration or radical simplification). 
Build your own interventions
The practices we've gathered are starting points to build on. We invite you to adapt what you discover in the library to create your own interventions fit for your particular context.