An updated design for our website
Mark Henderson, Wellcome's Director of Communications, writes about the latest changes to the design of our website.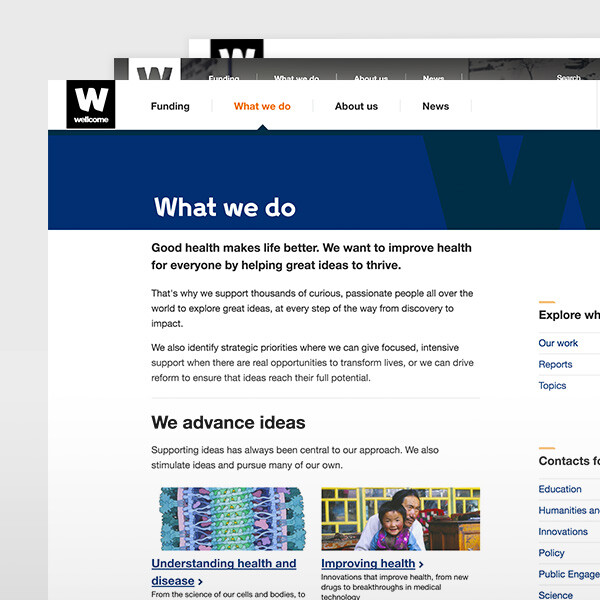 Back in May 2016, I wrote about why we were relaunching the Wellcome website, wellcome.org.
We wanted a site that could communicate Wellcome's mission, encourage those with great ideas to work with us, showcase the breadth of the work we support, and help people understand our policies and practices. And it needed to be accessible and work well across all screen sizes.
The relaunched site also included some elements of our new brand, designed to bring more coherence and impact to our visual and written communications. 
I said at the time that the site wouldn't be perfect right away. That we wanted to improve and evolve it by seeing how it worked for you, the users of the site. 
So we've been making dozens of small changes since launch, based on feedback, site analytics and user testing. For example, we added information to scheme pages, in response to some of the questions that our Grants Management team get asked regularly.
Today we've made a more obvious change, rolling out a new look-and-feel for the site. As that's more eye-catching than updates to individual pieces of content, I thought it would be worth outlining what we've done, and why we've done it.
What's changed? 
We've:
evolved how we use the elements of the brand on the site, including brand colours – for example, in the banner, in underlined links and buttons
reduced line length, adjusted the size of fonts used and changed the spacing between different elements on the site, making text easier to read
changed the size and use of some images on the site, so they stand out more clearly
moved some of the filter tools to the left, to make sure people see them
made some headings 'stick' to the top of the browser to make it easier for people to remember where they are on longer pages.
These changes are based on the feedback we've received, on more detailed work looking at how our new brand works with our digital products, and on user testing.
They don't affect the structure of the site, or Wellcome Trust Grant Tracker. But those will continue to develop. 
They don't affect the site's content either. But that's always under review, and we'll continue to improve and add to it in the coming months.
Tell us what you think of the site now, by taking a minute to fill out our feedback form. Your views really matter to us, and help us understand where we should go from here.