Stephen's story: to build a lab you have to build your team
Stephen Graham is a Sir Henry Dale Fellow and a Principal Investigator in the pathology department at the University of Cambridge. His work focuses on understanding viruses, and the molecular processes by which they steal membrane from the cells they infect without alerting the immune system of the host.
Setting up a lab is a key moment in a researcher's career. For Stephen this meant dealing with some predictable challenges, like building a team, but also an entirely unpredictable one when he had to take a career break because of a life-threatening illness.
Stephen was fascinated by science from an early age. Growing up in Sydney, Australia, he was an avid reader of popular science books – especially Richard Preston's novels about outbreaks and viruses. After graduating with a joint degree in computer science and biochemistry, he decided to pursue the latter.
Fast forward ten years and Stephen was now in the UK with his wife, another scientist, doing a postdoc in a virology lab at the University of Oxford.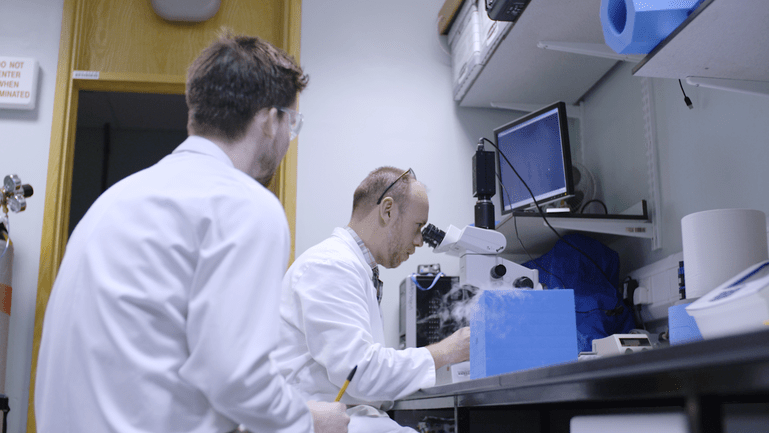 Stephen loved the work, though it had taken him time to get used to the scale of the lab in Oxford.
"I'd come from a small lab where I had a lot of interaction with the boss, to a very big one where you're really chucked in on your own and you have to work everything out for yourself. That took quite a lot of adjustment." 
For the first time since he'd started doing research, Stephen was working on the subject that had always fascinated him – viruses. For three and a half years he studied every virus structure he could get his hands on. But then it was time to move on.
"If you've been a postdoc in a lab for long enough, you run the risk of becoming part of the furniture. You get more responsibilities in terms of managing the lab and less time to pursue your own research. That was starting to get a bit frustrating, so it was time to find something else."
But having thought about it, he didn't feel like he was ready for his own lab.
"I knew that I couldn't spin out straight from my first postdoc and try to start my own lab," Stephen explains, "because I didn't have any independent ideas about things I could pursue myself."
His wife Janet was lining up independent funding in Cambridge, so Stephen applied for and got a Royal Commission for the Exhibition of 1851 Research Fellowship. He started his second postdoc role, at the Cambridge Institute for Medical Research.
His decision to join an institute that worked in a different area was strategic. His long-term plan was to try to marry up membrane trafficking, which he would get exposure to in Cambridge, with his experience in virology from Oxford. He thought this would pave the way for getting independent funding.
His new lab was a small one again – another reason for the move to Cambridge. "Small labs have more of a focus in terms of research, and I really enjoy that environment," he says.
The science was interesting too. "It was great to be a structural guy in a building full of cell biologists. I was learning the biology from scratch but applying skills I knew from elsewhere. That was very rewarding."
At the end of the three years, it was time to move again. By this point, Stephen had his own research ideas. He wasn't 100% confident they would work – but didn't think that was a reason not to try. "I think that if it doesn't make you nervous, you're probably not shooting high enough," he says.
His plan was to venture into a new area where he could combine his interests in membrane trafficking and viruses – pathology and infectious diseases.  
"I'd identified a scientific area of investigation that, A, I was interested in, and B, I was a plausible person to do. And I'd identified somewhere where it would be the right place to do it. So it just came together." 
Stephen's career milestones
PhD in Biochemistry

University of Sydney, Australia

Research Fellow (Nuffield Medical Fellowship)

Senior Research Associate (Royal Commission for the Exhibition of 1851 Research Fellowship)

Sir Henry Dale Fellowship

Sir Henry Dale Fellowship (renewal)
Getting a lab off the ground
With a Wellcome Sir Henry Dale Fellowship, he started his own lab in the pathology department at the University of Cambridge.
This was an energising time in Stephen's career. It was exciting to be able to decide what type of experiments to do and to drive the research himself.
The logistics were challenging, though. He was moving into a department that didn't have the infrastructure he needed, so he had to buy new equipment and set it all up.
"The really intimidating bit was hiring staff," Stephen says. "How do you choose the best person in an interview lasting only one or two hours, when you're going to work with this person for three to five years? That's where input from more experienced colleagues was invaluable.
"You have to make sure that you're getting the right people who will get on with everyone, be able to do the science and contribute, and that this is a good career decision for them as well."
Then he got some shocking news. In November 2013, a year into setting up his new lab and a month after his first PhD students joined, Stephen was diagnosed with testicular cancer. He was 34 years old.
He had surgery and recovered, but four months later found out the cancer had spread. That meant six weeks of chemotherapy, followed by time to recover at home.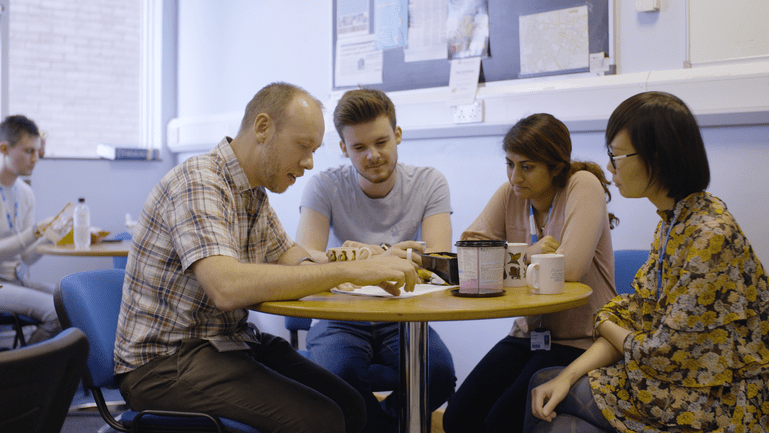 "It's a nerve-wracking time. It's as hard, if not harder, for your partner or your family," Stephen says. "And it was a bit of a challenge because my poor PhD students were early into their PhDs when all this was kicking off."
The support he received from colleagues was more than he could expect. "Everyone picked up the things that I'd dropped and made sure my students were well supervised. And my wife, being a scientist, helped look after these guys."
"Wellcome was very good as well," he adds. "They extended my fellowship and the funding for my research assistant at the time. That did make a difference in terms of just giving us that bit more time before I went for the next round of fellowship funding." 
Stephen went back to the lab. "I think I was in a rush to try to be normal again. That was probably a mistake. And it took a while for everything to get back up to speed." 
But being away from work had put other things into perspective. "It does give you time to take stock of life's decisions. It makes you think about work-life balance and making sure that you're investing adequately in yourself and your personal life, as well as not being 100% completely career-driven."
It also means that you come back to work with a fresh perspective: "You're more enthusiastic, you don't get burnt out, you do better research and you enjoy it more." 
'Now I'm the dude in the book'
Stephen's lab is growing and its work evolving.
One of his priorities is that the lab is a good and fun place to work, and that everyone gets on. This involves people management skills which, he says, is the area you're the least trained for as a principal investigator but one that you need to dedicate most time to.
He spends about half of his time every week training his PhD students and postdocs: doing experiments side by side, helping them to plan their research and mentoring them so they're prepared for the next stage. "They've trusted you with their careers. It's a responsibility that you have to take seriously, but it's incredibly rewarding," he says. 
"I think some of the most rewarding moments in the lab are when a PhD student comes to you with a new experiment or result and you can share the excitement with them. You vicariously get the same excitement you had when you were a student, and that's really fun."
After applying for a Wellcome senior fellowship in 2017, Stephen was advised to refine his project and apply instead for a renewal of his Sir Henry Dale fellowship, which he got.
"No one likes getting rejected, but with the benefit of hindsight, I think Wellcome was right," Stephen says. "When I do put in an application [for a senior fellowship] in a couple of years, it will be a much better application because of the feedback. You have to be able to take the knock, breathe, then read what they've said, and try and interpret it."
With his funding renewal in place, Stephen's lab is busy investigating how viruses remodel the inside of the cells they infect, hoping to contribute to a better understanding of virus infection.
Whether it's doing experiments himself and seeing something new for the first time, or sharing that excitement with his PhD students and postdocs, research still brings Stephen something unexpected every day.
"It's come from my childhood interest in reading popular science books, and now I'm the dude that was written about in the book. That's really cool."