Public engagement: it's fantastic for research, but how feasible is it for you?
In the third in our blog series from the Public Engagement team, Imran Khan and Rebecca Jones talk about the issues around researcher-led public engagement.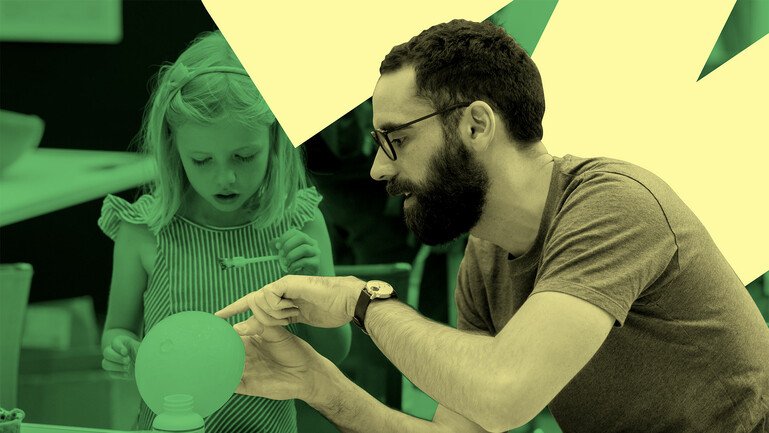 Is engagement seen as part of the job of being a Wellcome researcher, or as an add-on in a growing list of demands? Is academic culture continuing to be more open and public, or have we taken our eye off the ball and let progress stall? Do funders reward good practice when we see it, or just complain about it when we don't?
These are some of the questions we're asking ourselves as we try to figure out how best to involve Wellcome-funded researchers in our new public engagement strategy. 
Wellcome funding supports over 14,000 people in over 70 countries, so finding ways to make sure our grantees' work is shared with the public is one of our team's biggest opportunities – and biggest challenges. 
If we do it well, we're helping to improve research, make it more accessible and increase trust in science. If we do it badly, we're wasting a lot of people's time. 
Almost every major investment Wellcome makes – including our centres and programmes – comes with an expectation that public or community engagement is integrated into its strategy. And we're trying to change the culture throughout the research sector by backing organisations like NCCPE (the National Coordinating Centre for Public Engagement), and working with other members of the National Forum for Public Engagement. 
But as a large, independent funder, we want to be bolder. In particular, by articulating what a vibrant and publicly engaged academic culture could look like. And we want to understand what difference public engagement is making, rather than just knowing that it's happening. 
Over the next few months we'll be starting a number of conversations, reviews and reforms that will help us answer these questions. But we wanted to tell you now what we're thinking, partly so that you know our direction of travel but also so you can tell us if we're missing something big. 
Funding researcher-led engagement
Funding is a major way we support researchers to work with the public, and many apply to one of our two main grant schemes. 
But the Public Engagement Fund is incredibly competitive, and the highest-quality proposals tend to be led by collaborations, communities, or creative approaches, rather than full-time academics whose main job isn't engagement. 
And the Research Enrichment (Public Engagement) scheme – for Wellcome grantees who want additional funding – only supports a relatively small number of researchers. 
So this autumn we'll be considering how effective these funds are in supporting researchers. And this might lead to experimenting with new approaches. For example, we want to understand how universities could play a bigger role in making high-impact, locally relevant, researcher-led engagement happen. 
Our central funding will always be there, but we might rethink the role it plays within a mix of different ways to support researchers.
From a researcher's point of view 
As well as engage the public, we know that today's researchers are probably expected to be institutional brand ambassadors, support policy advocacy, think about their institution's REF score, be social media wizards – and occasionally even teach. 
But we genuinely want engagement to be seen as a key part of being a researcher, not an optional add-on or extra demand on their time. So do we take a rounded view of what engagement looks like from a researcher's perspective, and then design incentives and structures for public engagement around that? What might they look like if we did?
We'll be working with colleagues across Wellcome to better understand what the reality is for different researchers at different stages of their careers. 
Sharing what works
The evidence base around public engagement needs to be both stronger and more available. This would help both institutions and individuals decide whether and how to engage.
We know of lots of specific examples where engagement can lead to higher-quality research with better health outcomes – but how can that knowledge be transferred? How can we help make it easier for researchers to use it when planning their engagement? Where does Wellcome need to invest to address unanswered questions about the value of engagement in different contexts?
To help us think about how to approach all these issues, we've got a new Research & Evidence team in our department.
Rewarding and recognising our researchers' public engagement
The research community is used to recognising academic outputs. People gain professional points through papers, professorships, proceedings and prizes. 
But do we do enough to reward and recognise people who contribute through public engagement? Perhaps we could do more to shine a light on engagement novices who are blazing a trail as newcomers, and established academics who are changing the definition of what engaged research might look like. 
We're not starting from scratch. We'll be partnering with UK Research and Innovation to figure out what barriers exist to getting engagement recognised by senior leaders. As with all the questions outlined here, we want to aim for higher standards and be sure we're using our unique role in the sector to best effect.
If anything we've discussed rings true – or rings alarm bells – we'd love to hear from you. You can reach us at @wellcometrust and @imrankhan on Twitter or on Wellcome's Facebook page. Both of us regularly visit the institutions we support. Alternatively, you can talk to your institution's public engagement coordinator, who probably knows us. 
We'll leave the final word to Wellcome's Director, Jeremy Farrar – if only to prove that when it comes to our engagement ethos, it really does come from the top.