It's not what you do in public engagement, it's who you do it for
In the first in a new series of blog posts from our Public Engagement team, Imran Khan and Farrah Nazir talk about adopting agile and human-centred design in the team's new ways of working.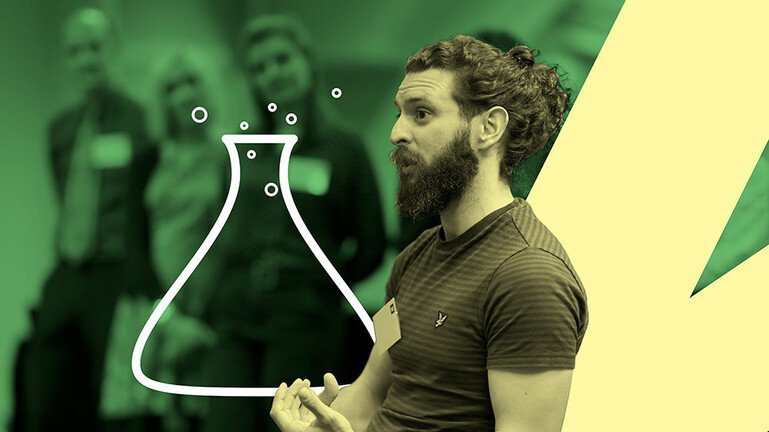 Under our new public engagement strategy we're trying to be more proactive: to put more research into what we should do and how we should do it, and to focus more on what engagement achieves instead of worrying about what form it takes. 
But the flipside of setting ourselves new and ambitious goals is that we don't necessarily know what the best way is to meet them.  
It's tempting to go down a tried-and-tested route and use our common toolkit of approaches to engaging the public – events, campaigns, debates or co-creation. But the solution that's easiest for an institution is not always what's best for the audience. 
So for the past five months we've been trying new ways of working. Before diving into an area where we might want to engage the public – be it mental health, epidemics or genomics – we're asking ourselves how we know if our hunches are right and whether or not we're well-placed to make a difference.
A new approach – the human-centred way
Borrowing from agile and human-centred design methodologies, we're approaching each project in three phases. These aren't necessarily linear – sometimes we'll stop after the first stage, other times we'll have enough evidence to jump ahead. 
1. Discovery – validate the problem
Have we identified a genuinely interesting problem or opportunity that relates to our public engagement outcomes? Are we sure it's a real issue, and not just one we're speculating about?
It's not enough for us to say that working-class men aren't interested in science, or that ethnic minorities would benefit from engaging with mental health research. We have to prove our hypotheses. Ideally by going and talking to the people we want to reach, and learning as much as we can about their perspective.
With the help of some lovely people at places like Humanly, DotEveryone and Snook, we're reminding ourselves that discovery isn't something we do before we engage the public – it's a critical first stage of engagement itself. 
2. Alpha – validate a solution
Once we've understood the issue, how do we find out how best to make a difference? 
We're aiming to work with partners to trial several solutions for each challenge (or opportunity) so that we can compare how they work in the real world before committing to something at scale. 
This is not about running a 'pilot' to see if we can deliver it or not; it's about testing different solutions to learn what works best. 
3. Expansion – scale the solution
Only after these two stages do we decide whether to run a public engagement initiative at a national or international scale. 
For example, we've got some ideas about how to change the way people interact with health research on social media. But if we don't test our assumptions with our audiences before we try big things, there's a risk these will fail. 
We're trying to guard against that through a process of iteration, being more open about our work, and being ready to stop things that aren't working.
How it works in practice
We've recently engaged the public to help identify what role Wellcome could play in mental health. We've got a number of levers – across science, policy, innovation and cultural interventions. But what's most useful from a public perspective? 
In the discovery phase, we talked to people with lived experience of mental health and to researchers. What we found out is that the current way of recruiting participants to research projects doesn't work well.
The scientists felt they never have enough time to recruit participants and struggle to get a big enough sample of the right people. But research participants felt the system was designed for researchers, not them. They weren't always informed about the results of the research or given opportunities to participate in another research project if they didn't happen to be suitable for a specific study. 
In alpha, we tried to understand how that process could work better – not just by asking direct questions, but by testing prototypes with people. For example, a mock-up of an app tested what might influence people's interest in sharing personal information with researchers. 
We learned a huge amount very quickly and discovered new areas we could explore next: the gaps in the engagement of ethnic minorities with mental health research or the low level of support for mental health practitioners to engage their patients with research. 
It's harder than it sounds 
It's not been entirely plain sailing. Unsurprisingly, this kind of work is more time-intensive than making decisions about which projects to fund, so we haven't done as much as we hoped as we were gearing up to our new way of working. 
We're trying to work out how to investigate a bigger range of issues at the same time – and some new roles in the team will help us do that. But it's also been hard trying to be more agile in an organisation that's used to making bigger, long-term commitments. 
Finding ways to quickly test our assumptions with the public before we start working on them, or testing prototypes before we commit to a solution doesn't fit easily with the processes and culture of a big, global foundation.  
Despite those challenges, we're excited about this new approach. You can't target 'the general public' – we're all people, and we're a complicated, changing, unpredictable bunch. To be successful we'll need to innovate, test, be ready to be proved wrong, and be geared towards learning as much as delivering. 
We're still experimenting with how best to live these principles within the public engagement department at Wellcome. We'd love to hear from other teams about how they manage it. How do you keep yourselves and your organisations 'honest' when it comes to being human-centred? And what could Wellcome do to help our partners or grantees? 
Let us know what you think – we're at @imrankhan and @farrah_nazir on Twitter. Or tell us on Facebook.
In the next blog post, we'll be reflecting on the first round of funding under our new strategy – the process, trends, and what this might mean for Wellcome's public engagement in the future. 
Related articles