How we've defined what success looks like for Wellcome's work
Chonnettia Jones, our Director of Insight and Analysis, explains how developing a success framework is leading to new ways of thinking and working across Wellcome.
Two years ago, with the launch of Wellcome's refreshed strategy, we set out our plan to improve health through science, research, innovation and engagement with society.
This wasn't a revolution – it built on a long history of achievement.
But this still left important questions.
How can we maintain the long view, while also responding flexibly to emerging challenges and new opportunities?
How do we make the best use of our resources across all the activities we support?
How will we know if we're making progress?
We realised that it wasn't enough to have a shared vision, we needed a shared understanding of what success looks like.
This is why we developed the Wellcome Success Framework
At the centre is our mission surrounded by three core objectives – in research, health and engagement with society – and nine long-term ambitions.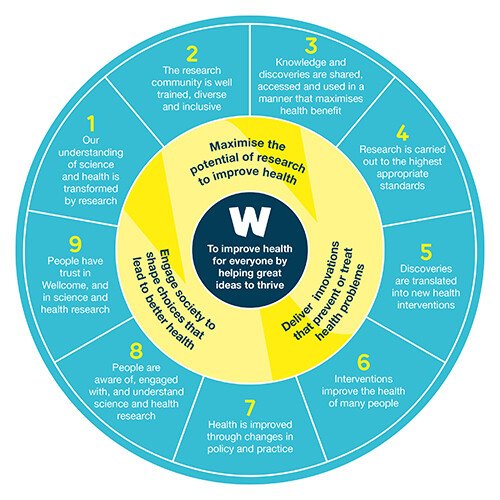 The concept is simple: it presents a shared language that promotes clarity and a shared understanding of what we aspire to achieve across all Wellcome's work. Success happens when we all make collective progress toward achieving our mission.
The framework helps us to:
communicate both within Wellcome and to our communities, networks and partners what matters to us, what we're doing, and how it contributes to our mission
make the necessary links to address emerging challenges and maximise opportunities
take an organisation-wide view to better understand and assess the results of our work.
Over the coming months, we will explore how our work contributes to each of the nine ambitions. And we will evolve our approach over time as we gain more experience and a deeper understanding of what is working, for whom and under which circumstances.
What we're doing to monitor our progress
The language of the Wellcome Success Framework [PDF 500KB] is intentionally broad to give us flexibility in how we direct our activities and resources. But now that we've agreed what success looks like, work is underway to identify the information we need to monitor progress.
We will need to make changes in the ways we capture information. We will begin to track things we have never tracked before. And we will strive to make better use of information already available to us, and share information with others.
Greater than the sum of our parts
The success framework has already changed the way Wellcome teams are thinking and working. For example, we are thinking of ways to:
create a culture of, and commitment to, innovation

[PDF 200KB]

with the people and institutions Wellcome supports
strengthen our policy messaging to be clearer about what we are seeking to influence and why
engage more people in Wellcome's work and mission.
Embedding the framework across all areas of Wellcome's work will not only help us to work together more effectively, but will also help us to understand the long-term impact of our funding and other direct activities.
We won't be able to claim sole credit for success. We will need to continue to work with grantees, funders, institutions, networks and many others. But we are now clear about what matters to us, what we're doing and how it will contribute to our mission.
By working in this way, we will be greater than the sum of our parts and maximise the impact of our activities to improve health for everyone.
Related links
Related news