How lived experiences of dementias have informed science and the arts
Since October 2016, a team of scientists and artists and people experiencing dementias have been exploring, challenging and shaping perceptions of dementias. As their two-year residency in The Hub at Wellcome Collection draws to a close, here are some highlights.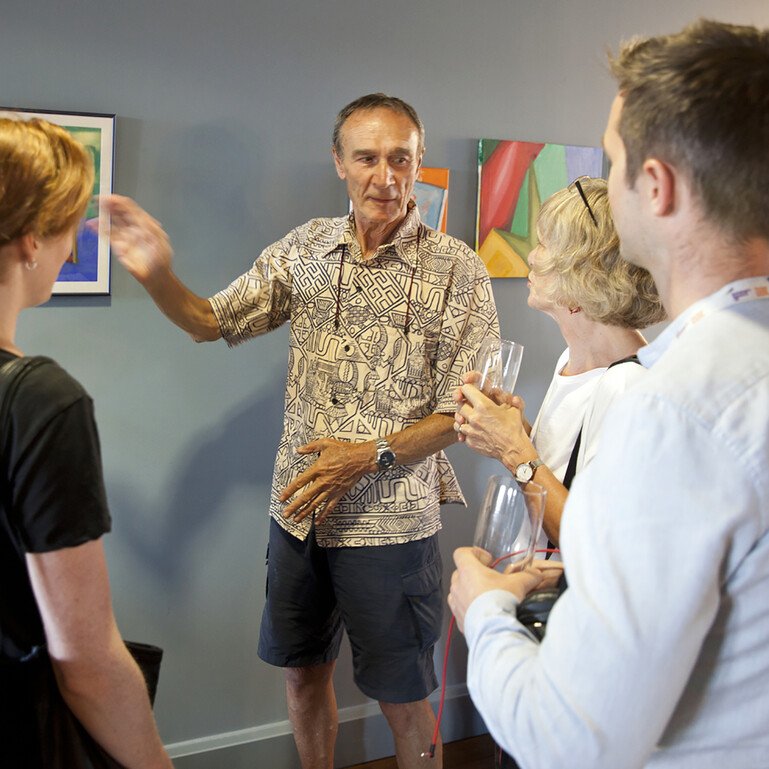 Created Out of Mind received £1 million in funding through The Hub Award to explore two research themes – representations of dementia in everyday stories and measures of how people with and without dementias respond to creative experiences, such as seeing art or singing, 'in the moment'.
The group have been the second team of residents in The Hub, our dynamic transdisciplinary research space where people from different backgrounds and expertise collaborate on projects exploring medicine, life and art.
The team, led by Sebastian Crutch, Professor at UCL Dementia Research Centre, has included people experiencing dementias, as well as psychologists, visual artists, neuroscientists, writers, musicians and music practitioners, broadcasters, actors, sociologists, philosophers, designers and computer scientists.
Using a mix of observation techniques, communication methods and wearable technologies, the group have been conducting experiments and developing toolkits to measure the psychological, physiological and social impact of the arts for people living with dementias, and supporting the wider implementation of creative activities for those with a diagnosis.
The group has produced artworks, installations, compositions, sculptures, films and podcasts that communicate the varied personal experiences of living with dementias, with the aim to change the conversation around dementia. These include:
Talking Life - a series of podcasts sharing the personal stories and life observations of people experiencing dementias
Do I see what you see? – a powerful, short animated film narrated by people living with a rare form of visual dementia
Why Music? The Key to Memory – a series of live events and broadcasts in collaboration with BBC Radio 3.
Created Out of Mind has shared its initial findings with opinion leaders and policy makers. This includes contributing to the:
The team has also used The Hub to hold regular Rare Dementia Support workshops with hundreds of people living with or caring for someone with a dementia.
"The Hub residency has enabled us to recognise, affirm and communicate something of the infinitely varied lived experience of dementia, with the team engaged in work we couldn't have imagined at the outset of the residency."

Sebastian Crutch, Created Out of Mind project lead
What next for Created out of Mind?
While their Hub residency draws to a close, Created Out of Mind's work will continue, to ensure that diverse lived experiences of different dementias are at the heart of the public narrative.
Dementia currently affects over 44 million people worldwide. This is predicted to increase to more than 75 million by 2030 and over 135 million by 2050.
In recognition of its achievements, Created Out of Mind has recently been shortlisted for the Royal Society for Public Health's Arts & Health Award.
Next residents of The Hub
Award-winning arts company and charity Heart n Soul will be in The Hub from September 2018.
Their project, which will be The Hub's third residency, aims to uncover new insights about the lives of people with learning disabilities and autism, to understand how everyone's health and wellbeing can be improved and celebrated.
Simon Chaplin, Director of Culture and Society at Wellcome, says: "Since launching in 2014, The Hub has served as a space to conduct original and creative transinterdisciplinary research, crossing the boundaries between medicine, health and the arts.
"We've been privileged to have worked with current residents, Created Out of Mind, who have really paved the way in demonstrating the power of the arts in communicating both the personal stories and scientific realities of dementia. We are now delighted to welcome Heart n Soul to The Hub to explore how we can work together to create a more vibrant and inclusive society."
More information
Get involved