How can we improve equity in science education?
In an increasingly STEM-dependent world, we want all young people to be able to engage with science – both inside and outside of school.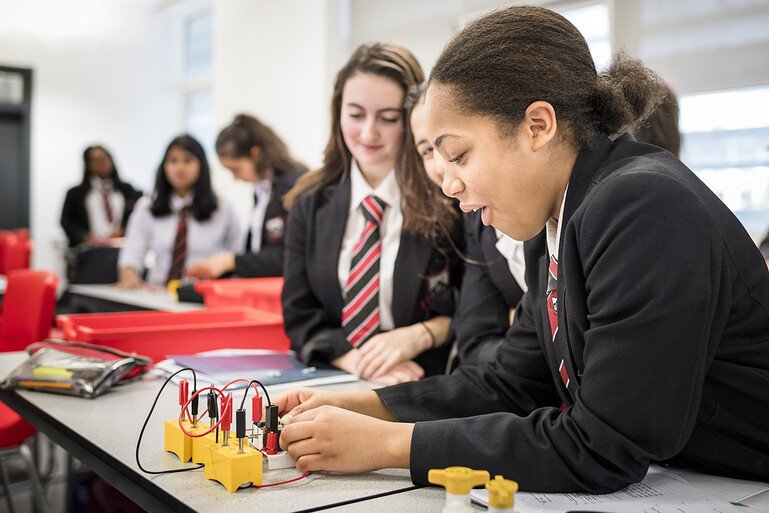 Time has flown since I joined Wellcome as Head of Education and Learning earlier this year. 
It has been a privilege to join an amazing team of passionate, dedicated professionals, and an organisation with the will and resources to tackle big challenges, both in the UK and globally.
As millions of young people head back to school, I am pondering how we can truly prepare all of them with the skills they will need for the world they are heading into.
Addressing inequity in STEM
Our team is currently two-thirds of the way through a five-year strategy that focuses on supporting educators as the crucial lever to bring about systemic change. Our work strives to improve primary science teaching, supports teachers' professional development, and helps youth workers to provide more opportunities for informal science learning in their communities. This is all underpinned by our research and policy work. We're excited about what we've achieved so far and energised about where we're headed. 
However, we recognise that the road to improving science education is long and the learning gap between richer and poorer students has not changed in decades. Almost every country is grappling with this issue and to me, equitable access to science, technology, engineering and maths (STEM) sits at the intersection of education, economics and social justice.
In an increasingly STEM-dependent world, it's essential that all young people see science as something they can engage with, both inside and outside of school. They need to have opportunities to be STEM-literate and proficient, to help them make informed choices as citizens and participate in the modern global economy. But too often, large groups of people are left without these tools with lasting consequences for themselves, their communities and society.
It's encouraging that this year's A-Level results in the UK show increased entries into biology, chemistry, physics and computing. But let's remember that 51% of students do not go on to university and post-16 routes are increasingly segregated by socio-economic status. Disadvantaged pupils are also almost twice as likely to fail GCSE maths as their wealthier classmates, and we know that maths is essential for engaging with many STEM fields.
Too many young people are struggling with disadvantages that affect their learning and life outcomes. Where you live, how much money your family has, or the colour of your skin are still major barriers that prevent many from realising their potential.
What do we need to do next? 
As we look ahead to our next strategic plan, tackling the impacts of deprivation and addressing representation are key priorities. We're carefully considering how we can better support equitable access to science learning and participation, and reduce the gap in outcomes for different populations.
We're grappling with some big questions, for example:
As a large independent charity with a vested interest in science education and learning, how can we use our autonomy to help with some of today's problems while setting out ambitious goals for a better future?
Should education at Wellcome stay UK-focused or expand to reflect the global nature of Wellcome's work?
How can I use my role to have new conversations about how to act more urgently and innovatively to tackle systemic inequities in STEM education access and outcomes?
Given that social policy and education policy are intimately related, should we take a more holistic systems approach to ensuring better learning and career outcomes for young people?
Can this system be a more coherent learner-centered STEM ecosystem as some are trying, or does it have to be even more comprehensive (as we know that wide gaps are already in place by the time children enter primary school)?
How do we take an 'all-hands-on-deck' approach and make full use of community assets and partners?
We don't have all the answers, but we know that to be responsive to the most pressing needs and to truly reflect the community, we need to hear from a diverse range of voices.
There are many dedicated individuals and groups already working on these issues around inequity in STEM – how can we accelerate change? We want to better understand where it's best for us to support and where we should lead. The many stakeholder conversations we have planned over the coming months will help us find this sweet spot. In the meantime, we'd welcome your thoughts and hope you will engage with us in the conversation.
Anita Krishnamurthi on LinkedIn
Related news
Related links