Conversations on mental health: from lived experience to local innovation
Wellcome's lived experience team hosted a series of webinars on how to make mental health more inclusive: from involving people with lived experience, to designing mental health interventions that stretch beyond healthcare.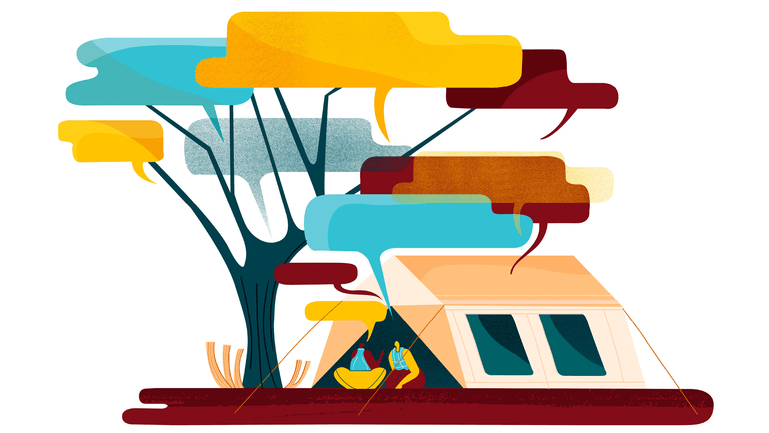 These panel events, titled 'Conversations on mental health', were hosted as online webinars in June. 
They gave our team and lived experience advisors the chance to discuss publicly the three principles that underpin our work: putting lived experience at the heart of policy and practice, positioning local innovation as a focus for learning and funding, and envisioning mental health as larger than healthcare. 
These conversations stem from a report we published in 2020, which highlighted a collaborative commitment by Wellcome, UNICEF, the World Health Organization, the World Economic Forum, and the Office of the United Nations Secretary General to embark on a learning journey on how best to embed the three principles across all of our mental health work. 
Lived experience at the heart of policy and practice
Lived experience is a valid and legitimate form of knowledge and expertise – this was the main highlight from our first event. Panellists discussed why it's so important that lived experience is at the centre of mental health policy and practice.
When creating new policies or doing scientific research, it is vital to actively involve the people who will benefit from those policies and research. 
Whatever a mental health researcher, for example, or any health researcher is working for, there is somebody who's been through it, there is somebody who knows what it feels like, there is somebody who has lived through it and is continuing to live through it. That is so valuable to research.

Meghna Khatwani, Wellcome Lived Experience Advisor, India
Local innovation as a focus for learning and funding
In the second webinar, we looked at how important local innovations are for the long-term future of mental health science and research. Panellists explored why grassroot organisations and local innovations may have been overlooked in the past, and what could be done to have them at the forefront of mental health policy, science and research.
The conversations centered around the relationship between colonialism, westernisation and interventions around mental health. Emphasis was placed on re-imagining in a local context what works for whom and why.  
For local innovation to really sustain itself, you need a global network. And while we want our interventions and our solutions to be contextualised and relevant to where we apply them, we also want the people who are coming up with these solutions to have as wide a range of resources as they possibly can. Open access to journals is the first step in that. And another step would be language accessibility. Right now I'm pretty sure most of the global knowledge base is only in English.

Dhriti Sarkar, Wellcome Lived Experience Advisor, India
Mental health as larger than healthcare
The final event focused on why mental health can't be pigeonholed into health alone, as its determinants stretch far and wide into the socio-economic wellbeing of an individual and their community.
Panellists argued for wider interdisciplinary approaches in mental health research to address the wider questions we have about what causes mental health challenges, including economic, political and other factors at play. They also called for the knowledge of people with lived experience to be used to identify and answer these questions, so we can fully understand these contexts. 
In my experience, we don't blame individuals if they were to have a physical health problem. That's not always the case within mental health. If we're looking at this as a holistic approach, beyond just what the healthcare system currently offers, we need to look at it as communities: how we can bring each other together and really rise against the stigma that so many young people face in their experiences with mental health challenges. And what, as communities, we can be doing, not only to stem mental health being an issue, but also to come together and fight back against the stigma that's been perpetuated in our societies.

Natasha Swingler, Wellcome Lived Experience Advisor, Australia
The audience at the events asked so many incredibly insightful questions. We couldn't fully answer all of them, so we're writing a follow-up blog based on these questions, which we'll publish soon.
With thanks to the audience who attended these webinars – more than 300 people – we hope to expand our series on conversations on mental health and see you at future events!