Lucy's story: a journey between different disciplines
Lucy Series is a Wellcome Research Fellow in Humanities and Social Sciences and lecturer at Cardiff University. Her current research project looks at what empowerment means for adults with disabilities under the Mental Capacity Act.
Few careers follow a completely straightforward path. Lucy Series quit her first PhD, struggled to get funding for a second, and found out she was pregnant while applying for a fellowship. But that's all part of the story of how she got to where she is today.
Lucy's career turned on one of those strange moments of serendipity.
She was on a road trip in the USA, driving from New Mexico to North Carolina, when she happened to check her email and saw an advert for a PhD back in the UK, just days before the deadline to apply.
At the time, Lucy was uncertain about her career path. She'd quit her first PhD and, after working in the social care sector for a few years, had decided to start a new one. But so far, no-one would give her a second chance.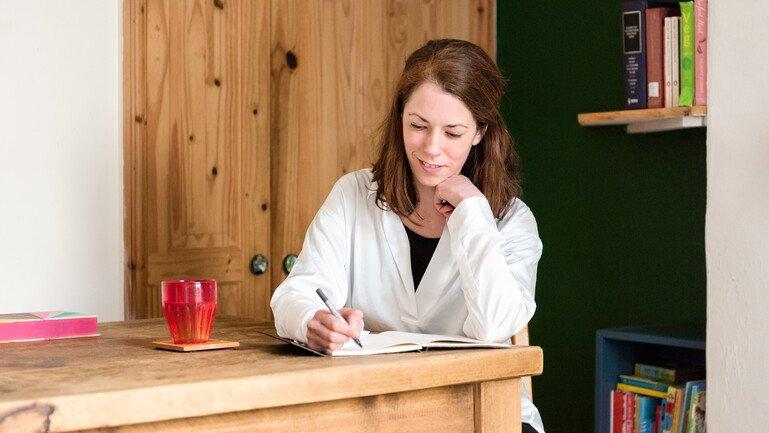 It hadn't started like this. Early on, Lucy had a clear vision for what she wanted: "I had quite a lot of experience with friends and family who had mental health problems and I wanted to understand them better."
A series of voluntary and paid jobs she had since she was 16, working with people with learning disabilities, sharpened her focus. "I wanted a career that would allow me to think deeply about the situation of a group of people that I cared deeply about," she says.
So she set her mind on becoming an academic.
But having started a PhD in experimental psychology, Lucy began to have second thoughts.
"It became increasingly clear to me that my interest wasn't really in that kind of narrow cognitive approach to psychology. I was much more interested in what happened to people's lives when they had mental health problems."
Lucy's career milestones
2002-2005

BSc in Psychology with Philosophy

2006-2007

MSc in Psychology Research Methods

2007

Discontinued PhD in Experimental Psychology and Philosophy

2009-2013

2013-2017

2017-present

Wellcome Research Fellowship in Humanities and Social Sciences
Although abandoning her PhD wasn't an easy decision, Lucy felt it was the right one.
"I found it too abstracted from people's lives, and I couldn't feel that what I was doing was making any noticeable difference in the world. So I left."
For the next few years, Lucy did a series of social care jobs. But she found herself confronted with problems she didn't have the power to address. She started to think about returning to research.
"I wanted the space that a PhD offers you to think deeply about some of the things that are happening in the world. And it's very hard to get that space when you're working nine to five."
This time around, Lucy wanted to look at issues through a different lens. "I had various ideas about more sociological PhDs looking at people's rights."
Getting PhD funding for a second time proved challenging, particularly as Lucy was trying to change disciplines and compete with others who had knowledge and skills in this new field.
"It's hard for people to get into academia after being outside it. It's not impossible, but it requires the right kind of mindset on the part of the institution and the funder.  
"I think every time you get rejected for a PhD, particularly if you're making quite a bold jump, you fall back on an assumption that you're not good enough, or that it will never happen. But you just have to keep trying, keep knocking at doors until you find the right door."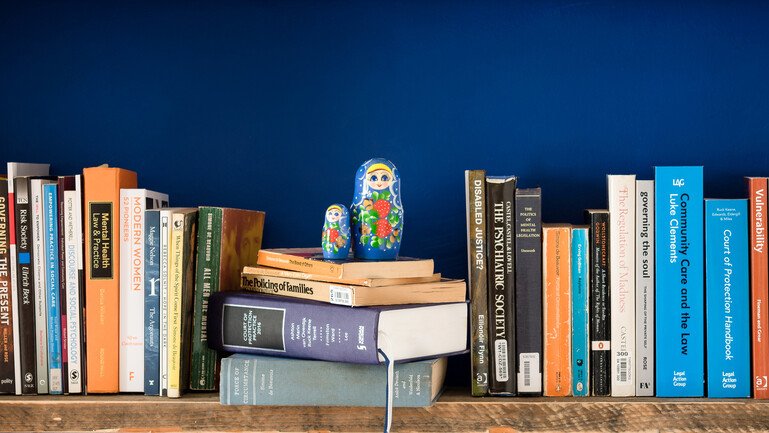 Writing a PhD application on the road
That's when she went travelling in the USA – but fortunately saw the advert for a funded PhD in law, at Exeter University. She wrote her application on the road, while her partner drove, and cut her trip short so she could attend the interview.
The PhD was to look at the Mental Capacity Act. "I'd had high hopes [the Act] could change a lot of the things in care that have troubled me, around restrictive practices and people not being given choices over their everyday lives. I applied, not really thinking I'd get it. Rather amazingly, I got funding."
This time Lucy loved her PhD. "After a few years of working in really emotionally and physically demanding care jobs, and having ethically and politically charged questions coming at me a thousand miles an hour, it was a really welcome space to stop and think, to talk to other people about the issues, and to start to gather the tools for a more theoretical understanding of the bigger picture."
It's hard for people to get into academia after being outside it. It's not impossible, but it requires the right kind of mindset...
Still, law was a completely new field for Lucy. "I felt like I was being pursued by a constant anxiety that I would miss something really important."
She immersed herself in learning, going to undergraduate lectures and writing a blog. But she thinks the feeling that you're missing part of the picture never really goes away for people who shift disciplines.
"Having an outsider's perspective on law was helpful in some ways, but it also made me very careful to check that I fully understood what I thought I understood."
Family, research and the bigger picture
The next step for Lucy was a critical one. She had found the right research field – but there were other things that mattered to her too. "Finding a community of academics, not necessarily in your own university, who you can exchange ideas with was really important to me."
During her PhD, Lucy had come across a group of researchers working on similar subjects at Cardiff University. "I went to them with an idea for a project and wrote a funding proposal. We worked on it together and it got funded by Nuffield," she says.
"The idea for the project came out of a chapter in my PhD thesis where I was interested in the question of how the Mental Capacity Act can be enforced."
When the project started, Lucy moved to Cardiff – where she still is today. She feels she has found the right institutional home. "It's an exciting place to be intellectually, and everyone I know there has this passion for social justice. You don't get that in all law schools."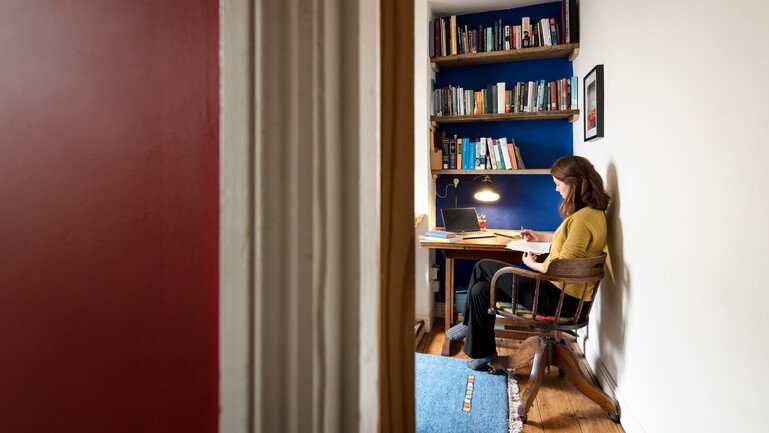 As her research advanced, Lucy's understanding of the role of the law started to change. "When I did my PhD, I thought law was the answer to the problem I was concerned with. I felt that if you got the principles and procedures right, then the law would do its job."
But she began to question whether this was true.
"So I started to put together an idea for a project stepping back even further and asking: what are we actually doing with this law, what's the problem we're trying to solve, and can law even solve this kind of problem?"
This became the focus of her second postdoctoral project, funded through a Wellcome Research Fellowship in Humanities and Social Science. 
"My Wellcome fellowship offered such a great way to address this because it bought me more time. And because it's a fellowship rather than a specific grant, Wellcome was very open to the idea that I would need to develop new skills and involve mentors from outside my field of expertise."  
Having an outsider's perspective on law was helpful in some ways, but it also made me very careful to check that I fully understood what I thought I understood.
During the application process for the fellowship, Lucy found out that she was pregnant.
"It was very exciting, but it did throw a bit of a spanner in the works. Wellcome staff were amazing about me having a baby in the middle of the application process," she says. "They were happy to postpone the interview, and reassured me that I could redesign my project to take into account that I'd be working part-time and doing it over a longer period of time."
Life as a parent and an early-career researcher is a challenge.
"It's really hard, there's no denying it. You are absolutely disciplined to the minute once you've dropped them off at childcare. You need to be clear about what your goals are in a way that I wasn't before. You stack your life, so you do things like watching lectures while cooking, and you learn to use tiny snippets of time."
Another challenge is the precarious nature of a research career. "The absence of a permanent contract means the risk that you might have to move job, city or institution is ever present.
"It's really hard to manage, and I don't think there are any straightforward answers until universities start to value research pathways as much as they value teaching pathways into academia."
Lucy considers herself fortunate to have been given a lectureship at Cardiff University to run alongside her fellowship. 
"What this means is that instead of spending my fellowship thinking about where I might end up next, I can actually start thinking about piecing together a bigger grant because I know that I've got the tenure I need to be a principal investigator," she says.
I actually can't imagine a better career stage, I'd love to stay in it forever.
Despite the challenges, Lucy's enjoying this phase of her career. 
"I actually can't imagine a better career stage, I'd love to stay in it forever. I have a lot of time to spend on research, which means I can do more in-depth projects than would be possible if I had a heavy teaching load. And I'm still at the stage where it's fine to ask questions, and seek advice and guidance from more senior colleagues."
Reflecting on how she has reached this point in her career, Lucy says: "I still think a lot about the people that I worked with in care, and about relatives and friends who are still caught up in the mental health system.
"The law has become more complex, but we're still facing the same problem in different forms. And we're still not sure how to resolve it, and I'm not sure how to resolve it. The feeling that I might contribute a small piece to the puzzle keeps me going."
We are very proud to support Lucy's work. When she applied for a fellowship, Lucy made a very strong academic case, informed by her interdisciplinary career spanning law and psychology. That, combined with her work on the frontline of health and social care, meant she can bring real-world experience and intellectual rigour to the project. 

Paul Woodgate, Portfolio Developer, Wellcome