Wellcome's goals: support global research to tackle global challenges
In March 2017, Wellcome announced five ambitious goals to support research globally. Today we look at what we have achieved so far and what we are working towards in 2018.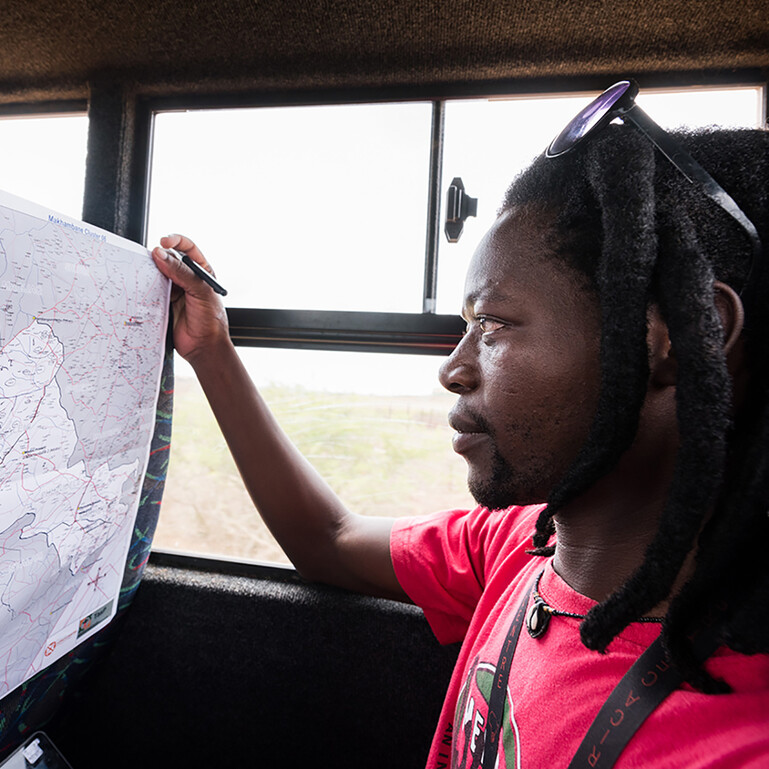 Throughout 2017 we have worked towards these goals by working with colleagues from across the world.
Collaboration brings fresh ideas and new perspectives. Bringing people together from diverse backgrounds, often across borders, leads to new ways of thinking, better solutions and faster progress.
In 2016/17, Wellcome made 939 awards worth £1.1 billion, more than ever before and double what we supported a decade ago. We currently fund research activity in more than 100 countries and our non-UK funding continues to increase, largely driven by our commitment to major initiatives such as CEPI, CARB-X, GARD-P, DELTAS and H3Africa, and by increased investments in our Africa and Asia Programmes.
These are only some examples of how we're working to solve the world's most pressing challenges through strategic partnerships and collaborations. Partnerships which we hope to develop further throughout this year. 
We will champion and support research through changing times
Our aim is to identify and support the most able and dedicated researchers at key career stages and give them access to the best possible equipment and infrastructure. We are looking to tackle a flawed career structure and support the next generation through our Fellowships and Awards.
We have recently published our recommendations to strengthen European science through Brexit and beyond. These are based on the views of over 200 organisations and individuals from across Europe. We think that European countries, including the UK, will have to work together even more closely through the European Research Area, to remain competitive in the face of challenges such as rising levels of research investment in other parts of the world.
Last year saw researchers from over 70 countries and 15 organisations, including Wellcome, come together to celebrate and champion research collaborations through Together Science Can. This is a global campaign to unite researchers when world events are threatening the environments within which collaboration thrives, creating an unclear future for many around the world.
We will ensure the world is better prepared for the next epidemic
Wellcome is a founding partner in the Coalition for Epidemic Preparedness Innovations (CEPI). During 2017, CEPI moved rapidly to drive its global health mission forward. It has identified its target diseases and in the past year issued two Calls for Proposals and recently announced their first funded vaccine partnership with Themis Bioscience to develop vaccines for MERS and Lassa.
CEPI is determined to keep up the pace, and the governments of Germany, Australia, Belgium, Japan and Canada have recently committed additional funding.
2018 marks the centenary of the 1918 influenza pandemic, one of the most significant and wide-reaching international health crises of the 20th century. A hundred years on, there remain serious  challenges to the world's capacity to prepare for and respond to infectious disease outbreaks.
This anniversary year, we are embarking on an international programme of activity which asks, how can we outsmart epidemics? We will be exploring how to connect and drive progress across research, innovation, policy and society by bringing together a coalition of partners as we look forward to a series of events in New York in September.
We will advance the global response to drug-resistant infections
We are taking coordinated action to safeguard our capacity to treat infectious diseases in the future. In March 2017, we committed $155 million over five years to CARB-X which is already supporting more than 25 potential new antibiotics, diagnostics and preventative approaches. Wellcome, alongside the UN Foundation, UK, Ghanaian and Thai governments, organised the Call to Action on Antimicrobial Resistance [PDF 1.91MB].
This event focused on the critical gaps in tackling the spread of drug-resistant infections and sought commitments to concerted and tangible actions.
We will continue to help the world to fulfil the commitments made in the UN's resolution on drug-resistant infections within five years. We are working with policy makers to implement a global plan that will guide priorities and strategies to reduce the impact of drug-resistant infections.
To support this further, Wellcome is bringing together a new, international expert group, SEDRIC (Surveillance and Epidemiology of Drug-Resistant Infections Consortium). SEDRIC has a clear goal – to transform the ways countries can track, share and analyse information about the rise and spread of drug-resistant infections.
We will also bring partners together again later this year with a follow-up to the 2017 Call-to-Action Conference. 
We will harness the creativity of innovators across disciplines to deliver health impact
The fantastic research we support has the potential to have a much greater impact on the world. To make this happen, over the past year we have provided follow-on support for ten projects in areas such as malaria, Shigella, post-partum haemorrhage and psychosis. If successful, these projects will have an impact on diseases that disproportionately affect people living in extreme poverty.
Results from the WOMAN trial led to the World Health Organization (WHO) publishing new guidelines. The trial showed that an inexpensive drug called tranexamic acid can prevent almost a third of deaths due to severe bleeding after childbirth. Blood loss after childbirth affects 14 million women a year and is the biggest cause of maternal death in the world. The WHO guidelines highlight the need for all health systems, regardless of resourcing, to recognise the need for this life-saving intervention be made readily available.
In addition to continuing to support our current projects and programmes, the following activities will support our strategic goals
We will roll out the translational partnership approach and begin establishing an international network of institutions committed to translational research.
We will start our People, Communities and Places theme. The initial aim will be to develop ways we can help a much broader range of innovators by providing advice and creating innovation networks.
We aim to work even more closely with industry to drive the translational agenda and to support specific global health projects and technology advances.
We will also explore how we can work more closely with those involved in implementation to promote the rapid adoption and update of innovations, particularly in low-resource settings.
We will push R&D for health up the global political agenda
We will work to give research a bigger role in tackling global health challenges such as climate change and mental health.
We're already engaged in many partnerships across Europe, and are excited to be opening an office in Germany. This, alongside our new status as a non-state actor in official relations with the WHO, presents the opportunity to build and expand our network with other foundations, academic institutions, industry, NGOs and governments who share Wellcome's vision to improve health for everyone.
But we can do more to create an environment where research flourishes in the long term, supported by an increasingly diverse range of leaders and governance, and with reliable and sustainable sources of funding.
Over the next year Wellcome will continue to amplify the voices of new leaders in global health and to investigate how the global health community can respond effectively to the new challenges and opportunities it will face over the next five to ten years.